U.P. Michigan Works! is making a difference.
U.P. Michigan Works! is actively helping employers, employees, and job seekers across the Upper Peninsula create long-term success. Our team offers access to many State and Federal programs that help people and businesses win. Check out these stories and make sure to watch the videos.
to reach out to a U.P. Michigan Works! location to help you win!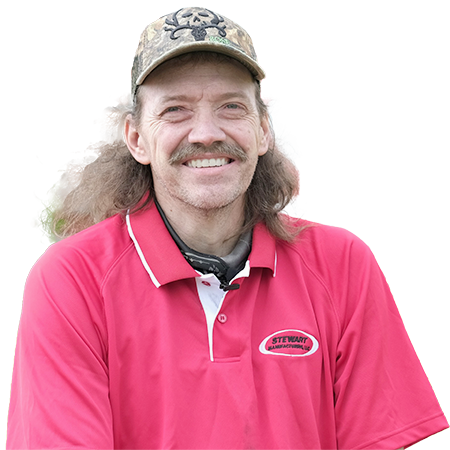 Battling cancer, Don Stimson struggled to stay on the job. Mounting bills and the lack of a reliable car added to his life challenges.  When his employer reached out to Upper Peninsula Michigan Works!, Don was teamed with a Success Coach from LiftUP, a network of resources dedicated to improving the lives of employees through personal, confidential support and training.
U.P. Michigan Works! helps a cancer survivor get back on his feet and back to work.
Don Stimson had hit a rough patch. First, his car broke down, leaving him with an unreliable vehicle to make the seven-mile trip to work at Stewart Manufacturing each day. Then, he was diagnosed with cancer. That was the beginning of a downward spiral that nearly cost him his job, his home, and his life. His employer helped him make use of his health insurance, short-term disability, and leave time,  but after missing months of work to undergo chemotherapy, Don found himself behind on his household bills for the first time in his life. He had no idea where to turn for help. 
Fortunately, representatives of LiftUP, a program through Upper Peninsula Michigan Works!, visited Stewart Manufacturing each Wednesday to offer assistance to workers in need. They connected Don with Lisa Temple, a Success Coach, who helped him review his bills and his budget and helped him access financial aid to help him get back on his feet. LiftUP is a collaborative network of businesses and private and public resources dedicated to the overall workforce success of the U.P.
"Michigan Works! helped me by eliminating the obstacles that were too big for me to handle on my own," says Don. "I'm thankful that Stewart Manufacturing is working with Michigan Works! to help employees who have problems or financial difficulties." Don's employer agrees. Vice President Randall McLeod explains, "Employees are our biggest investment. We want to retain those employees so we work hard to keep them here. Don is a great example of that. The fact that he's been able to battle back from everything he's faced…it's a great story."
Lisa first helped him address utility bills, mortgage payments, and auto insurance and registration. After several months, mechanics determined that they could not repair Don's old vehicle. During this time, Don had a recurrence of his health condition, along with medical restrictions due to COVID-19, which resulted in a second period without work. Lisa worked with Don and his employer to get him unemployment benefits.
After Don completed his treatment and was released to return to work full-time, his coach found him a used vehicle through a local dealership and funded the purchase for Don. He's finally back at work. Don says, "I'm feeling a lot better and starting to get my strength back. It feels good to be able to produce and not just sit around convalescing. I like the fact that Michigan Works! gives you a hand up and not a hand out. They help you get back on your feet so you can take care of yourself."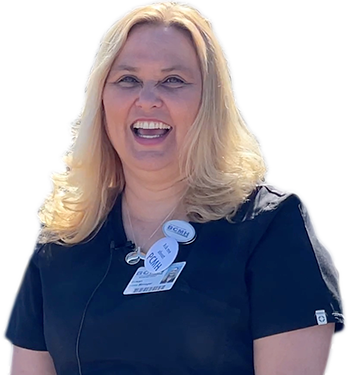 When COVID-19 hit, Baraga County Memorial Hospital (BCMH) faced an urgent need. How can a small facility suddenly separate its healthier patients from the surging number of COVID cases?  Turning to Upper Peninsula Michigan Works! for help, BCMH was lent a mobile clinic that allowed COVID patients to remain in the main building, while other patients could safely board the bus for well visits, screenings, vaccinations and preventative care.
U.P. Michigan Works! lends a hospital a mobile clinic to keep well patients safe
When the COVID-19 pandemic arrived in the Upper Peninsula, hospitals throughout the region were hit hard. Sick patients overwhelmed critical care units and clinics and staff members were stretched thin. Even before ill patients began arriving at Baraga County Memorial Hospital (BCMH) in L'Anse, healthy patients hesitated to visit the hospital for preventative services like well visits, screenings, and vaccinations for fear of becoming infected. The hospital had to quickly reorganize staff and resources so they could prepare to see patients in the safest manner possible. 
That's when U.P. Michigan Works! stepped up, offering to lend BCMH an RV outfitted as a mobile clinic. The hospital originally considered using the vehicle as an isolation unit for COVID patients. But they soon pivoted and decided to use "the bus," as it came to be known, as a clinic for infant and pediatric well visits and for healthy, higher risk populations to receive preventative care.
"This pandemic has required a lot of businesses to think outside of the box. This is a perfect example of that," says Thomas J. Van Ess, BCMH Director of Provider Services. "The bus allowed us to minimize contact for patients so they didn't have to enter our facility, thereby limiting exposure and alleviating patient concerns. Our patients and staff have nothing but gratitude for U.P. Michigan Works! for making this such a smooth process." 
The staff parked the RV in a lot behind the hospital and set up a secure parking area so patients could drive right up. Patients called when they arrived and a member of the nursing team met them outside. Walkie-talkies provided quick communication with the clinic. The nurses made use of the office space to complete charting or wait for the providers to finish their exams. 
"Working with U.P. Michigan Works! was an excellent experience," notes BCMH Physician Group RN Case Manager Susan Ingram. "The staff couldn't have been more helpful. They were right there on the spot, reaching out to us many times to check in and see if we needed anything.  "U.P. Michigan Works! really scored a win with Baraga County Memorial Hospital. We couldn't have made it through all this without them."

Wendy launches a new career in healthcare through Upper Peninsula Michigan Works!
Wendy connected with Upper Peninsula Michigan Works! (UPMW) through a Rapid Response meeting for displaced Shopko employees. Wendy was a Retail Manager for Shopko when the company filed for bankruptcy and closed all their stores in the Upper Peninsula. Wendy was uncertain what to do in her career.
Wendy spent time at her local Upper Peninsula Michigan Works! to work with staff to find out more about the programs that Michigan Works! has available for dislocated workers. Wendy learned about the WIOA program (Workforce Innovation and Opportunity Act Dislocated Worker Program), and came in the very next day to sign up for it.
Initially, Wendy wanted to go to school to become a Veterinarian Technologist, but the Veterinarian office was unable to provide her with an externship there. In search of a new direction, Wendy and UPMW developed a list things she could do and the pros and cons of each. Upon reviewing the information and learning about Wendy's skillsets, UPMW informed Wendy that her local hospital was expanding and needed full-time workers for billing, medical office administration, admitting, and nursing, as well as other positions. Armed with this great information, and seeing a true opportunity for her future, Wendy decided to take the Healthcare Administration Professional course through MedCerts. 
While she was taking on the MedCerts program, a position for a full-time Admitting Clerk came open at the hospital.  Wendy was interested, so UPMW helped her apply. Wendy participated in two interviews and was hired on full-time! Her employer was impressed that she was taking the course through MedCerts and was looking to possibly promote her once she was officially done with the course. Wendy, grateful for the assistance Upper Peninsula Michigan Works! provided to her, is now on her way to a new career in the health field.